By Nick Eardley
BBC political correspondent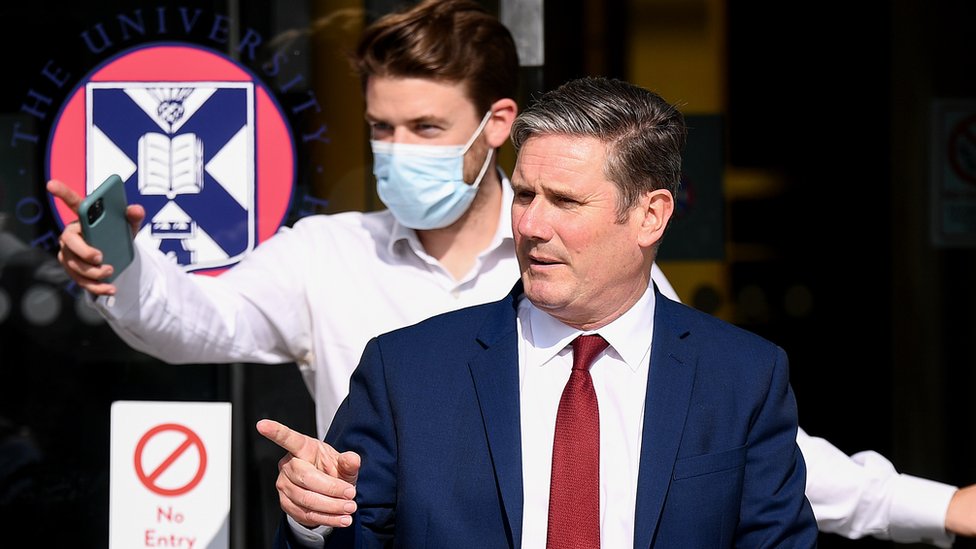 If Labour can't win back support in Scotland, what does it mean for the future of the UK?
It might sound strange, but there is real concern in the Conservative government about Labour's lack of support in Scotland.
It has plummeted in the past decade – and in recent months has fallen well below 20% in many polls.
Behind closed doors, that's causing worry in Whitehall.
Senior Tories considering how to prevent another independence referendum think Labour winning back at least some of its base in Scotland will be key – and they believe there is little sign of that happening.
Since the independence referendum in 2014, Labour has been stuck in something of an identity crisis.
Traditional Labour family
The constitution has continued to be the defining issue in Scottish politics – but Labour has spent a lot of time and political capital figuring out exactly where it stands on the prospect of another referendum.
Why are more Scots supporting independence?

Starmer urges Scottish Labour factions to unite
Starmer refuses to rule out backing indyref2
Some want it to go full Unionist – arguing another referendum shouldn't happen full stop. They believe they are most likely to win anti-independence voters support in the immediate term.
Others believe if the SNP win a majority – it will have a democratic mandate and should be allowed to hold another vote. They believe they can win back traditional Labour voters who support – or at least tempted by – independence by making that clear.
Sir Keir Starmer was confronted on this very issue on Friday when he hosted a zoom call with Scottish voters.
Luke – who told the Labour leader he was from a traditional Labour family but now supported the SNP – asked why the party wouldn't back another referendum to win trust back.
Sir Keir acknowledged polls looked bad for the Union and there should be a proper discussion about more powers for Scotland short of independence. But he wants to talk about other things – and for obvious reasons.
When it comes to the constitution in Scotland, many in the Labour Party would acknowledge they have simply been squeezed.
They will never be more pro-independence than the SNP – and will never be more Unionist than the Scottish Tories.
It's an issue that has left many scratching their heads for some time – senior figures admit that they simply won't do well in elections while independence dominates.
SNP deal?
Some have even pondered – only half-jokingly – that another referendum would be good for Scottish Labour because people would move on from discussing whether there should be one.
So what does the party do before the next Scottish Parliament elections in May and beyond?
Labour's leadership accepts that polls suggest increasing support for independence – but believe it's not the main priority for many people.
Instead, they want to focus on issues like coronavirus, the economy and public services. The calculation is that it's possible to move the debate on – and that in the midst of a pandemic people are prepared to listen.
When Jeremy Corbyn was Labour leader, some of his close allies argued Scotland should not be denied another referendum if that's what it voted for, through the SNP.
Ahead of last year's general election, that was seen in the context of a possible confidence and supply deal to make Mr Corbyn prime minister.
That never happened – and both sides denied any formal deal would ever be done – but the SNP's Westminster leader Ian Blackford was in touch with Mr Corbyn's chief-of-staff Seamus Milne on election day about the prospect of substantive talks in the event of a hung parliament.
Frustration with leadership
Mr Corbyn's critics often accused him of being equivocal on independence – saying for example he wouldn't allow a referendum in the "early years" of a Labour government, but not ruling it out beyond that.
He sometimes struggled to explain that position.
Mr Corbyn's allies hoped they could change the debate away from independence if they won power.
His critics feared he would sell out the Union for power.
In the end, Labour lost all but one seat in Scotland.
The Unionist wing of the Scottish Labour Party was hopeful Sir Keir would be more on message.
A position was worked out for the Holyrood election; a firm no to another independence referendum. The leadership in Scotland and London signed up.
But then, in a series of interviews around Labour's virtual party conference, Sir Keir failed to rule out another referendum in the future.
That left some in the party frustrated that the mistakes of the previous leadership were being repeated.
Familiar problem
But it also highlights a problem that isn't going to go away before May; Labour doesn't want independence, but neither does it want to be seen as anti-democratic.
Others fear the horse has already bolted.
One figure who played a central role in the No campaign, in the independence referendum, and Scottish Labour said ruefully: "It's far too late. We needed to have that position three years ago."
It all leaves Labour facing a familiar problem in the next few months – can it persuade voters in Scotland to move beyond independence in an election set to be dominated by exactly that?
It's the strategy the party is banking on – but few would bet the house on being successful.
That could have a significant impact on the independence debate, because senior Conservatives acknowledge there are some Scots who will simply never vote for them. If they voted Labour, it could help maintain a unionist block and perhaps prevent an SNP majority in May.
If there is another referendum, winning over people who lean to the left will be key.
But if Labour is stuck in a constitutional no man's land, they believe that becomes harder.
Scottish independence

SNP (Scottish National Party)
Keir Starmer